SIC Maui is proud to receive four industry awards for the Okeanos and RS series boards over the past week. The Okeanos composite board was awarded the Supconnect Overall Board of the Year and Touring Board of the Year awards and the RS 'Rocket Ship' won Supconnect Race Board of the Year. The RS won Supconnect's Race Board of the Year award in 2018 as well, making it the second consecutive year that the RS has been recognized as the leading race board on the market.
Following the announcement of the Supconnect awards on August 26, 2019, Paddling Magazine also awarded the winners of their Industry Awards at the Paddlesports Retailer Show in Oklahoma City on August 28, 2019. Embodying the paddlesports industry's innovative and entrepreneurial spirit, SIC Maui's new and not yet released 2020 Air-Glide Okeanos inflatable won Best SUP.
Okeanos – SUPCONNECT Overall and Touring board of the year
The annual Supconnect Gear of the Year Awards are comprised of 9 gear categories and an additional Overall gear winner. Award winners are decided through feedback form voters, retailers, the Supconnect editorial team, and the Supconnect advisory board. Find out why Supconnect selected the Okeanos and RS as Gear of the Year award winners below.
"When you can't get a board out of your head because you remember how much fun you had on it you know you've come across something special. The Okeanos has been that board in 2019," writes Supconnect. "The Okeanos is a beautifully done touring-specific paddle board that is versatile in use allowing for a guaranteed good time. It has a great platform for gear; it's stable; has great glide; comfortable deck; nice handle and stunning graphics. The SIC Maui Okeanos has left a lasting impression here at Supconnect and is ultimately why we're giving it the Supconnect Gear of the Year Awards 2019 for Overall Gear of the Year."
Find out more about the SIC OKEANOS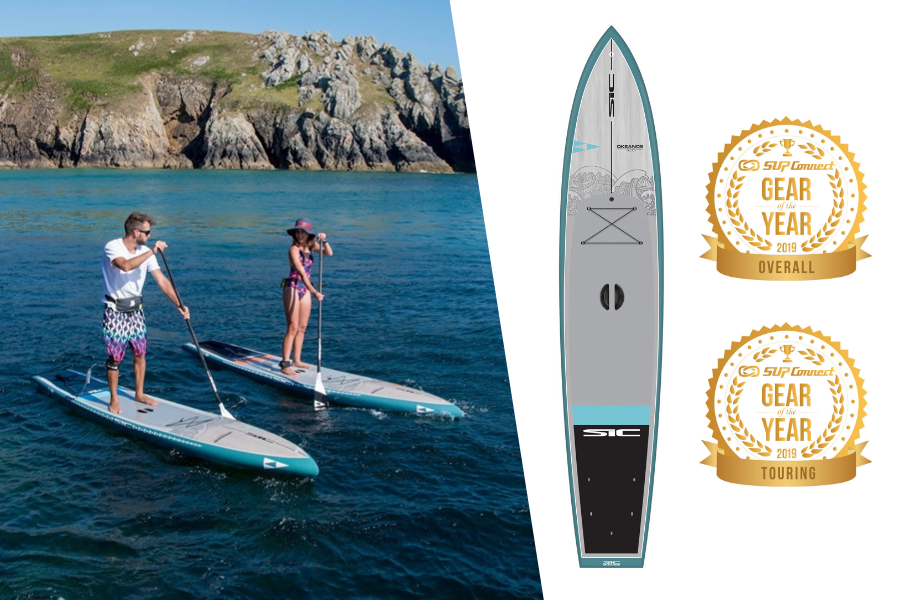 RS – SUPCONNECT Race board of the year
"Buzz and popularity by themselves are not enough to earn one of Supconnect's awards. But sometimes, all the chatter around a product has real substance behind it. And here is where SIC Maui's Rocket Ship, aka RS, has taken the world by storm," writes Supconnect. "Tagged as an 'All Water' Race Board, the RS introduces several variations of previous models in the SIC Maui line, but all in one crazy fast rocket ship. The squared tail offers plenty of stability on buoy turns and technical conditions; the deck has drainage holes to avoid the lower standing position from accumulating water; the lower deck lets the paddle stroke to engage with more power; and the combination of the bulbous nose, rocket, and rails all coalesce into one fast machine, rolling through bumpy rides and slicing through flatwater. Here, buzz and popularity are the byproducts of a truly extraordinary SUP race board, SIC Maui's RS, Race Board of the Year for the 2nd time in the Supconnect Awards 2019."